All ShoreFire purchases are protected by a 30 Day Money-Back Guarantee. Yeah, they're that nice.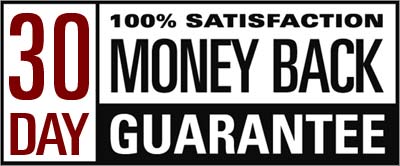 How do your covers attach to the saddlebag lids?
Our saddlebag lid covers attach via provided Industrial Strength Velcro strips that are placed on the inside of the saddlebag lid.  Alcohol prep pads are included with the installation instructions for your lid covers. There are NO tools or modifications required for installation.
I've seen Velcro become loose from heat on other brands lid covers before.  Will this happen with ShoreFire's?
No this will not! The Industrial Strength grade Velcro we supply with all covers is rated for temperatures exceeding 250 degrees. Other brands supply only general purpose Velcro, which has a much lower heat tolerance.
How soon will I receive my lid covers once an order is placed?
Each of our products are individually handcrafted as soon as your order is placed.  This ensures that each set of covers meets both yours and our high standards.  During peak seasonal demand, fabrication can take approx. 1.5 to 2 weeks.  Orders typically do ship out sooner than that, though, in most cases.
Are the saddlebag lid covers sold in pairs?
Yes, each of our lid covers are sold in pairs. A quantity of "1" during the ordering process includes both the right and left sides.
Do you offer products other than lid covers?
We are currently in a period of expansion and do have other products in development. We will make sure to announce any product releases via our website and social media as soon as they are ready for market.
Could you make lid covers to match the color of my bike?
We want our products to compliment your bike. We offer our lid covers in black because motorcycle seats are primarily black. Our lid covers tie everything together best when they match the color of the seat.
What makes your covers different than all the others?
There are several areas where ShoreFire excels over other covers on the market.
We take pride in our Superior Fit – Each ShoreFire product is individually handcrafted to have a proper fit the first time, every time.
Graphic Options Available – A ShoreFire Exclusive: ShoreFire products allow you to make a statement with our graphic elements.

Fully Padded – A ShoreFire Exclusive: All ShoreFire lid covers integrate ¼" of padding for added protection. This is just what's needed to protect your saddlebags from road debris and boot heels.

.
Fully Fleece Lined – A ShoreFire Exclusive: There is no exposed stitching that will rub and mar your paint. All the contact points on our covers are soft to the touch.